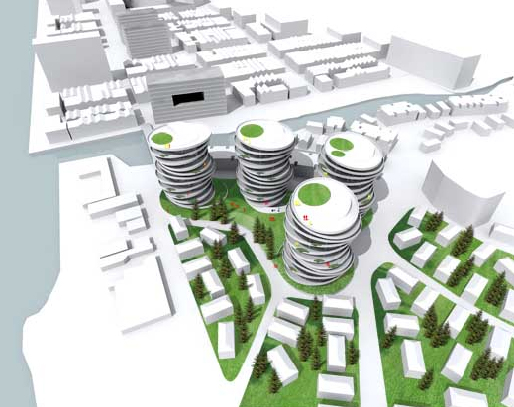 A radical yet pragmatic project to residentials in the Nordhavnen area of Copenhagen, awarded Architectural Review's Future Projects Award at MIPIM 2006 in the 'Residential' category.
The idea is to contribute to the establishment of the Nordhavnen area of Copenhagen (the northern part of the harbour not far from the city centre) as a full scale workshop for housing experiments and creative designs.
4 organic shaped apartment towers are situated in a free, playful and humanistic urban landscape. The towers consist of elliptical floor plans creating elliptical balconies which shift position moving upwards. The result is playful in its appearance, with several pragmatic advantages too. The balcony extension to the rational building core is relatively simple and economical affordable, but has high impact on the design. The roundly shaped towers give way for a better view from each apartment, and reduce wind turbulence. Energy consumption is also minimized through the perfect balance between internal area and perimeter. The shifting of the balconies ensures a more direct experience of the sky above.
[출처] http://www.3xn.dk/showProject.aspx?lang=0&page=pro68