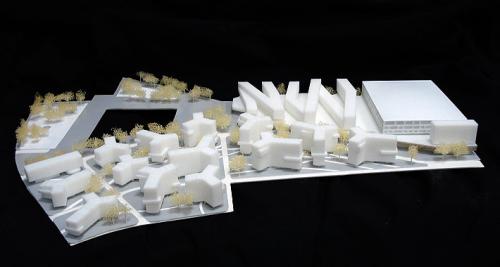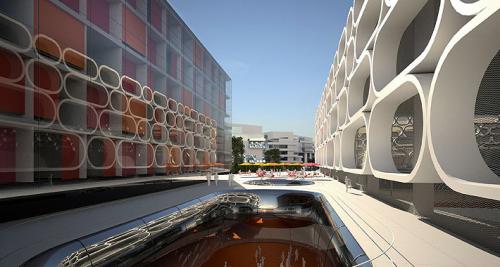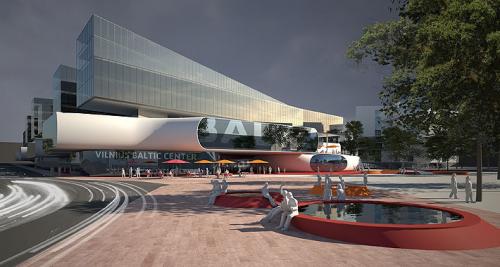 Modostudio Print version. Lithuania, Vilnius
Masterplan in Vilnius. International design competition - the third prize
Urbanistic contest regarding the project of territory between Rinktines and Neris River, and Seimyniskiu Raitininku streets
The project is spread across a wide area of the strategic city of Vilnius, near the river Neris and adjacent to the old town declared heritage list of UNESCO. Within this area are required to find solutions to house more than 200,000 square meters of functions dedicated to commercial, directional, all'abitativo and the inclusion of a covered stadium for more than 15,000 seats. The area also hosts a fine example of architecture of the early Soviet period'70 dedicated to sporting events.
Our proposal provides for the zoning of the area in three main areas dedicated all'abitativo, commercial and directional, and leisure. In close to the river green identify areas connecting via a pedestrian bridge, the centre of Vilnius with a large square that becomes the fulcrum of the whole speech and generator element of life throughout the district.
If the party to the south of the square is dedicated to leisure through restructuring the existing Sports Hall and the parks front, the building complex to the north, following the demands of the notice, it becomes a major generator of human activities, hosting covered parking, a shopping mall of more than 50,000 square meters, offices for more than 40,000 square meters, a hotel of 6,000 square meters and finally a covered stadium, attested on the front further north on the road and penetration of the district for more than 15,000 seats.
A thorough study of viabilistica and infrastructure has enabled us analysing hours attivtià human generated in the area, to optimize the capacity and location of underground parking.
Finally across the eastern half of the houses homes for more than 70,000 square meters in contiguity with the existing building fabric, expanding the current secondary roads.
The attempt was to harmonise the functions and high density applications trying to maintain a scale construction still a human and create a pole of attraction for an area close to the city centre but without a specific identity.